---
Get Started Guide
Welcome to the CAFE Conferring Pensieve. Below you'll see a breakdown of what is included on the classroom home page as well as a student's page and how to start conferring! For a brief explanation of all the features, see our Features page. For an extensive explanation of the features and how to use the CCPensieve, take a look at the Technical Writing.
Here is a breakdown of what is included on the classroom view of your CCPensieve account (with your own students, of course). Scroll down for a description to the corresponding number.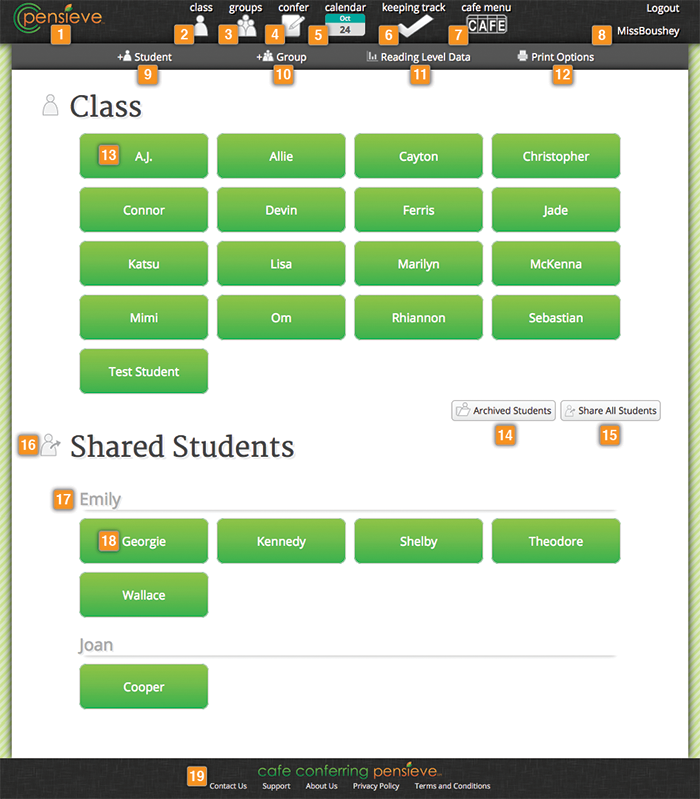 CCPensieve Logo

: Click here to take you to your dashboard with announcements and your weekly calendar

Class Page

: Takes you to your class (current page)

Groups Page

: Takes you to view your strategy groups

Confer Page

: Confer with any student, shared student, group, or a new group; in any subject matter. Learn how.

Calendar

: Schedule future sessions from the calendar. Learn how to save a calendar appointment.

Keeping Track Page

: Shows the frequency of conferences for each student and group for all conferring types. The dates automatically pull from the conferring session and display in a chart so the user does not have to keep track of this data themselves.

Interactive CAFE Menu

: Shows all of the CAFE goals and strategies and offers links to thedailycafe.com where a user can find downloads, videos, articles and more all pertaining to the respective strategies.

Display Name

: This is name shows up next to conferring sessions you save. Click on it to edit your account information.

Add Student

: Add one or more students. Learn how.

Add Group

: Add a new strategy group. Learn how.

Reading Level Tracker

: Keep track of the reading level of your students over time by taking snapshots of their current reading levels.

Print Options

: View different print options from PDFs and CSVs to blank downloads for a paper pensieve.*

Link to Student Page

: There are your students in your class. Click on them to view their past conferring sessions, and to create a new session.

Archived Students

: View Students you have archived. To archive a student, go to a student's page and click "edit student". Learn how.

Share All Students

: with another teacher with a CCPensieve premium account, at one time. Learn how.*

Shared Students Section

: All students who are shared with you will show up below separated by the teacher who shared.Learn how to share a student.*

Teacher Sharing with You

: Display name of the teacher who shared the students listed below it.*

Link to Shared Student Page

: Shared students belonging to the teacher printed above. Once shared, you can confer with these students and view past sessions.*

Footer Links

: Many important resources can be found here, including how to contact the developers and the support page. Take a look and see for yourself!
*Premium membership required
When you click on a student, it will take you to their very own Conferring Corner. Here is where you can confer with them, edit their information, share them with another CCPensieve user, view all their past conferring sessions, and their individual CAFE Menu.Scroll down for a description to the corresponding number.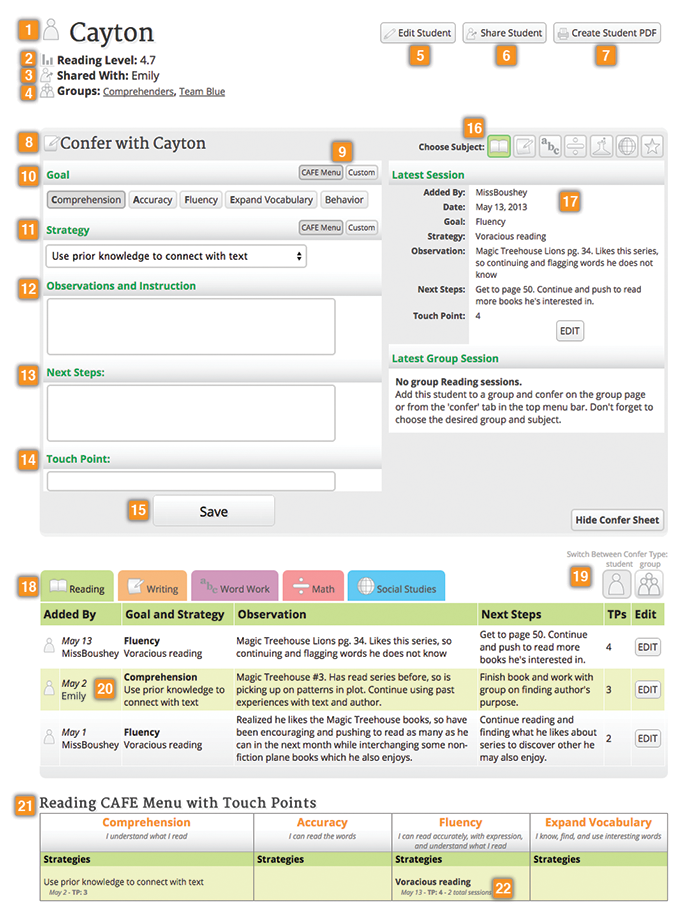 Student Name

: This shows the name of the student whose page you have navigated.

Reading Level

: This is an optional metric, but can be edited by clicking "Edit Student" to the right.

Shared Teachers

: Once a student is shared with a teacher, their display name will show up here so you can keep track of who has access to this student's data.*

Student's Group(s)

: This is where you will find all the groups this student is part of. To add this student to an existing group, click on the group's page, and click the button "Edit Group".

Edit Student

: Follow this link to edit the student's name, reading level, delete student, archive student, share student*, or transfer student*.

Share Student

: Share this student with a new teacher, unshare this student with an existing teacher, or transfer this student to a shared teacher's classroom.

Create Student PDF

: Customize a PDF report by adding notes, and choosing from past individual and group conferring sessions for this student. It can then be saved, printed, or emailed.*

Confer Section

: this section is usually collapsed. If you cannot see it, click the gray bar and it will drop-down for you to confer. Learn how to confer.

CAFE Menu vs. Custom

: Choose CAFE Menu if you want to select from one other CAFE Menu goals and/or strategies. Choose custom if you want to write in something different.

Goal

: Choose goal from the CAFE Menu or click custom to write in your own

Strategy

: Choose strategy similar to goal above, choose from the CAFE Menu or click custom to write in your own.

Observations and Instruction

: Record this information about the conferring session.

Next Steps

: Record what to work on in the next conferring session.

Touch Point

: Record a touch point to denote the student's progress on this strategy. Learn more about touch points.

Save Session

: The session will not be saved in any circumstance unless you click this button

Subject

: Click between these icons to set the subject for the conference. Options: Reading, Writing, Word Work, Math, Science, Social Studies, Other

Latest Session

: the most recent session displays here for this student and the selected subject for quick reference. Same goes for the latest group session below. In this case, Cayton does not have any group reading sessions saved.

Past Sessions

: all saved conferences are saved in this section. Only see one subject? Subject tabs display automatically as you confer within that subject.

Switch Confer Type

: To see past sessions of this student with strategy groups, click the group button.

Conferring Teacher

: This student is shared with Emily, so her name shows up in this place because she performed this conference from her account.

Individual CAFE Menu

: This menu automatically populates as you create conferring sessions to keep track of which goals and strategies this student has worked on, or "mastered" (written in 'bold' because they received a touch point of 4)

Strategy Details

: Keeps track of the latest touch point the student received and total sessions saved for this strategy.
*Premium membership required